Featured Artist Cynthia Richardson

"As an artist living in Anacortes, Washington, I am surrounded by the beauty of the Pacific Northwest. There are so many lovely scenes to paint - glorious sunsets over the San Juans, majestic mountain peaks, fertile farmlands, quiet marshes, rushing rivers, cliffs, beaches, forests, clouds - the possibilities are endless. So, it's no wonder that landscapes are among my favorite painting themes."




"Trees are also very interesting subjects, whether in dense forests or standing alone in solitary majesty. Each tree species has its own particular growth pattern of trunks, branches, and leaves or needles. Within a species, each tree is a unique individual, and I like to think of my tree paintings as portraits of those individuals."




"Another type of portraiture that I enjoy is capturing the personalities of birds and animals. Some are domestic, others are wild and free, but each has its own character."




"Although I took a couple of art classes in college, for over 40 years my time was occupied with raising 3 children, graduate school, serving on the Anacortes City Council, and a full time career as an architect. Then a few years ago I took a weekend workshop from Jennifer Bowman and got hooked on painting. Studying regularly with Dianna Shyne, Mike Wise, and other artists helps me to continually improve."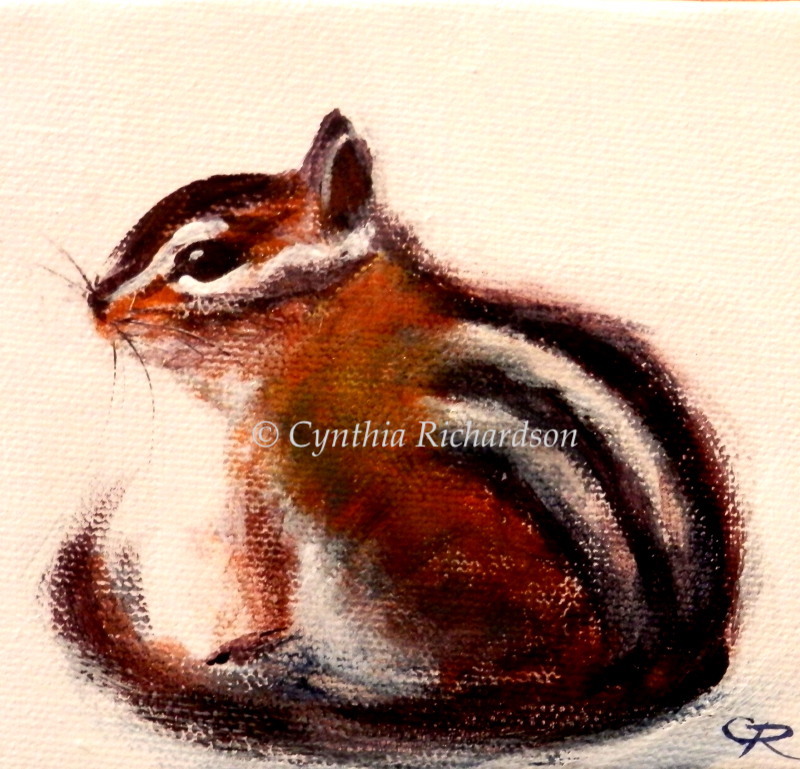 "You can see several of my paintings in the permanent art collections at Skagit Valley Hospital and Island Hospital. I was a featured artist at LaConner's Art's Alive, and three of my paintings will be in this year's juried show at the Anacortes Arts Festival.
My paintings are available all year at The Good Stuff Arts in Anacortes, and in seasonal shows at Scott Milo Gallery in Anacortes, River Gallery near LaConner, Smith and Vallee Gallery in Edison, and the 98221 Studio Tour each fall in Anacortes. And don't forget the Anacortes First Friday ArtWalk every month. You can see more of my art at www.cynthiarichardsonart.com .
Many of my paintings are available as greeting cards, which offer a miniature bit of art to take home with you or send to friends and family. Getting the colors just right is a critical step in creating these cards. Michele and Elizabeth do a great job, even running multiple test prints to be sure they meet my expectations. Emailing the image of a painting to Bayshore makes it so easy for them to keep my work on file for ordering more prints any time I need them."


Cynthia is such a talented artist, and we love getting to see her new pieces! She is a joy to work with, and we always look forward to seeing her when she comes in.
~Michele and Elizabeth, Bayshore Graphics Dept.


Bayshore's Featured Artist History: