Featured Artist J. Christie Martin
J. Christie Martin
(Whidbey Island, WA)

"I am a Northwest artist who enjoys viewing and creating many different kinds of art. My inspirational art pieces are a creative way for me to explore ideas centered around joy, curiosity, growth, inspiration, allowing and healing. I love to hide text in my inspirational pieces and include lots of details so the viewer can always find something new to focus on each time they look at a piece."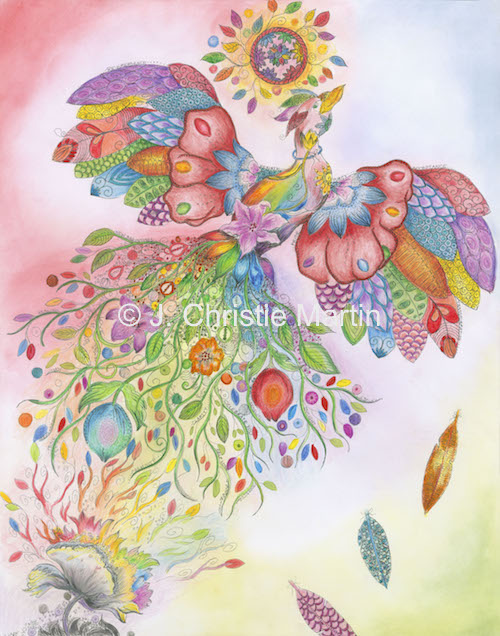 "I am particularly inspired by the connection between the animals around us and the need to live in harmony with them. I feel strongly about getting children out into nature as much as possible to inspire them to be life-long stewards of our planet. My guide/coloring book project involves developing quality artistic materials with an educational component for individuals and families to take into our beautiful natural spaces here in the Pacific Northwest. I'm excited to have books featuring animals commonly found in the North Cascades, the Salish Sea, and in Tidepool areas, and I am always developing new books and animals."




"These coloring books include an activity, and inspire young and not-so-young explorers to consider sustainability and their impact on the natural world.

The series of images from the coloring books grew organically into a collection of notecards and postcards that can be customized to compliment any organization, town, or area."




"My zen series is a fun and whimsical artistic process that allows me to interpret animals in a really creative way. I genuinely feel like I am doodling when I work on these pieces, and they seem to just flow. I am currently looking at doing a series of Northwest birds in this style."




"I really appreciate my experience with the Graphics Department team at Bayshore. The level of creativity and collaboration Michele and Elizabeth bring to each project is so valuable. Mike has really gone above and beyond to look into several different paper options and other branding vehicles for me. This team is a valuable and genuinely enthusiastic group that always makes me feel like I am their most important customer. So happy to have found such a great graphic design / printing resource locally."




Christie is such a ray of light, and her spirit reflects in her work. We really enjoy seeing her new pieces; they are always so inspiring! It is a joy to help create her coloring books, note cards, and post cards.
~Michele and Elizabeth, Bayshore Graphics Dept.

You can find Christie on Facebook, and you can find her art at her Etsy store, at local shops, and in State Parks around the area.


Bayshore's Featured Artist History: