Featured Artist Lisa Blohm
Lisa Allison Blohm
(Anacortes, WA)

"I paint from my heart, inspired by my love of animals, the earth we share and the joy they bring to our lives. I paint to tell a story, be it happy or imperative, so that we may live our lives with thoughtfulness and appreciation for our animal species--which need all of our love, protection and support."

Lisa is a local contemporary painter/illustrator who is inspired by love and passion for animals and the environment we share with them. Her works primarily represent local species and landscapes, and her paintings are often narrative and communicate the joy she feels in sharing and experiencing their world.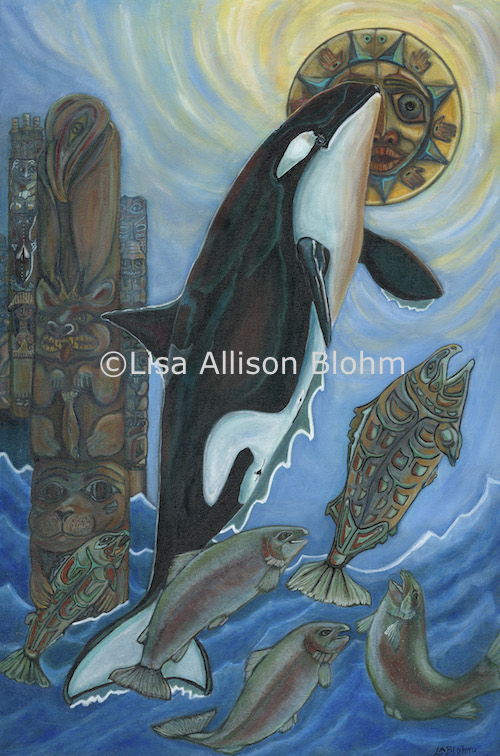 Through her work, Lisa strives to illustrate this joy and harmony with nature, or to share her subject's story, as well as to inspire action and passion for the current plight of many of our species. Living on and near the Salish Sea her entire life, Lisa has a special place in her heart for the marine animals and birds that inhabit this special region of our world. Her hope is that her art will amplify their voice.



Lisa is an artist and educator who lives in Anacortes, but considers all of the islands of the Salish Sea her home. She sells her works online through her website, and in her Etsy store.



Lisa started having her art cards produced at Bayshore a few years ago, and was so pleased with the special customer service that graphic artists Michele and Elizabeth provide, that she now also has them print her Giclee art prints as well. Lisa says, "They aspire to meet my every request and deadline, plus provide the best personal service--they even ordered my favorite paper for my art prints! I enjoy stopping in to see them both when I need to get prints or cards made; they make me feel like I'm their most important customer as well as their neighbor."




Lisa is such a joy to work with! We are always amazed at the new artwork she brings in. Be sure to check out her cover photo on Getaway Magazine. We are so proud to work with Lisa on her art giclees, note cards, and more!
~Michele and Elizabeth, Bayshore Graphics Dept.


Bayshore's Featured Artist History: