Featured Artists - Anacortes Sketchers
Anacortes Sketchers
(Anacortes, WA)
The Anacortes Sketchers meet on Monday afternoons at a variety of locations in Anacortes and Skagit County. We sketch mostly in pencil, ink, or watercolor. In the summer we paint outside at marinas, gardens, beaches, and nurseries. In the winter you may find us in coffee shops, antique stores, museums, and any place we can find of interest. We have a great time and welcome newcomers, no matter what skill level. We are constantly learning and supporting each other. So, give it a try. Our weekly locations are listed on our blog: anacortessketchers.blogspot.com . Need more information? Email Missy (contact info is on the group's blog.)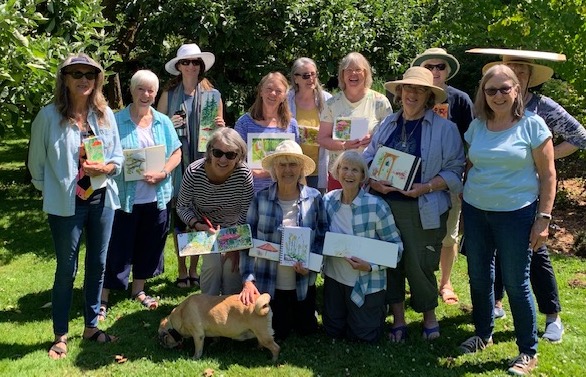 "We appreciate the wonderful work the Bayshore Graphics Department does for us. It's always a pleasure to work with Michele and Mikey, and the entire crew, including upstairs workers. Their expertise is helpful and they are professional and efficient. The personal service and advice given is something that keeps us coming back. Many thanks from the Anacortes Sketchers."


The Anacortes Sketchers are a fun-loving group that is such a pleasure to work with. Each artist's style is unique, and they all have a wonderful way of recreating the variety of scenery and wildlife that Skagit Valley has to offer! We always look forward to seeing each of the Sketchers bring in new work, and we're excited to see them grow!
-Michele and Mikey, Bayshore Graphics Dept.


Bayshore's Featured Artist History: