Furniture Design
Furniture from Bayshore
As an independent furniture dealer, Bayshore has the experience and flexibility to provide a furniture solution that is just right for you! Here is a link to our Facebook page, with a gallery of some of our past installations. Call to schedule your free consultation.
From reception areas to cubicles, breakrooms to conference rooms, large office to home office, Bayshore has the products, tools, and expertise to deliver a friendly, affordable, hassle-free furniture buying experience. We represent industry-leading brands like HON, Lorell, ESI Ergo, Lesro, Special-T, and more, giving you the flexibility and variety you're looking for, always at a competitive price.
•Go from Architectural / CAD drawings to comprehensive 3D renderings of your new space
•Past clients include City of Anacortes, Shell Puget Sound Refinery, Marathon Refinery, Swinomish Indian Tribal Community, and more
•Dozens of product lines and manufacturers represented
•Our long history of quality work that we stand behind
•Hands-on experience designing, building, and installing--we do it all!
•We don't push the most expensive items, but the right fit based on your specific requirements and style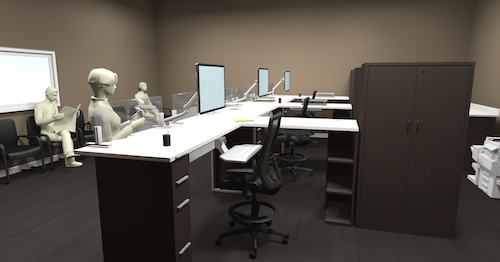 Here are some of the brands we prefer: